Don't Just Work With Us Grow With Us
There are jobs – and then there are careers. The chance to do the kind of work that adds up to something meaningful. Sounds appealing? Come join us.
Our Culture
We believe in an open, flat world. Our culture defines how we work and how we approach everything we do.
Do Good
Build a better world. Transform communities. The time is now. The potential is in you.
Work Even Better
Value driven work. The best work of your life.
Learn a Lot
Learn. Build. Grow. Life is about challenging yourself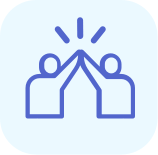 Have Fun
Most of all, enjoy yourself!
Grow With Us
We are adding thousands of users everyday. That means we move fast with everything we do. And you will too.
ESOPs
We foster a workplace environment where everyone feels included, thus all enguru employees are eligible to own a stake in the company.
Training
Passionate about taking up a course that would enhance your work? We will pay for it.
Medical Insurance
We'll take care of you with a comprehensive medical plan while you continue to deliver your best work.
Pet friendly
Yes, you read that right. Get your hooman along with you because let's face it, what better way to workplace happiness than pets.
Work-life balance
We encourage team members to take time off & come back refreshed, because it's important to make a life when you are busy making a living.
Live it up
We believe in having fun after a fruitful day at work. Team lunches and fun events are a great way to connect with co-workers and unwind after the (long) week.
Backend Developer | Django, MongoDB, Postgresql